Classical music soiree enthrals audience
Patiala, April 22
Acclaimed flute maestro Ravinder Singh of Kirana gharana enthralled audience in the sixth edition of the classical music soiree "Sunaad" held on Punjabi University campus here yesterday.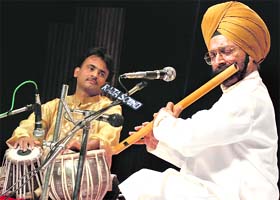 Flutist Ravinder Singh commenced the recital with the exposition of complex raga Marwa through a reposeful alaap and jod alaap establishing the raga character.

He presented a composition in madhya lya, jhap taal, which later melted into teen taal. Ravinder Singh displayed adroit mastery over the instrument, excelling both in gayaki and tantarkari ang, much to the delight of the audience.

He was, however, at his best with an entrancing spell of a concluding thumri in raga Pilu. Jaidev Kumar gave brilliant tabla accompaniment. Earlier prodigious Gurchetan Singh presented a captivating solo recital on tabla delineating rhythmic patterns of Benaras gharana. Dr Muztaba Hussain conducted the soiree. — OC


Source Link: http://www.tribuneindia.com/2011/20110423/cth2.htm